Agent 6 take a holistic approach to SEO, SEM and website design, and that's what's required to get results in today's market place.
Andrew Farnham
IMA
Brisbane Music School – IMA
The Client
Independent Music Academy (IMA), a Brisbane music school was about to open a third location and needed to drum up interest and bring in more paying customers through the doors. IMA offers many types of lessons from guitar and bass, to singing, drums and other more exotic instruments. This large variety of music lessons gives them access to a greater number of potential clients, but it also brings with it many more competitors in organic and paid search.
IMA provides a structured, classroom learning environment for students to hone their craft alongside group activities such as jam nights and events that students and teachers can partake in – making learning a new instrument a fun, social event.
IMA's target market was comprised of time-poor adults who wanted to get better at playing an instrument.
The Brief
IMA was trying to stand out in an industry where the competition was mostly made up of working musicians teach lessons at home or online tutorials on YouTube and other free services. IMA asked Agent 6 to put them in front of their audience and position them as a better alternative to learn their favourite instrument.
The Work
IMA's website was very much a DIY job. It struggled to perform on mobile devices and much of the imagery and content failed to capture the school's ability to turn dreamers into musicians.
As its site was invisible for the high-profile keyword topics the school should have been chasing, IMA relied on Google and Facebook Ads to send leads its way. With a stronger organic presence for those valuable terms, Agent 6 thought it could help alleviate IMA's reliance on paid ad channels to generate sales.
Typically, Agent 6 simply optimises existing websites. In some instances however, a more drastic remodeling is in order – and in IMA's case, that meant a redesign would need to be undertaken to alter the brand's online fortunes. Inspired by music magazine, Agent 6 sought to combine the aspiration of every student to become a proficient musician with a simple and laser beam focused keyword message. The whole wrapped in a fast, easy to browse music lesson selling machine!
Once the new site was up and running, our off-page SEO team set about building the brand's domain authority. This last essential component transformed this languishing music school website into Brisbane's premiere destination for music lessons.
Home Page Before and after
The home page was always pretty good we just tightened up the design and made it a lot faster.
Services Page Before and After
Website refresh before and after
The home page was always pretty good we just tightened up the design and made it a lot faster.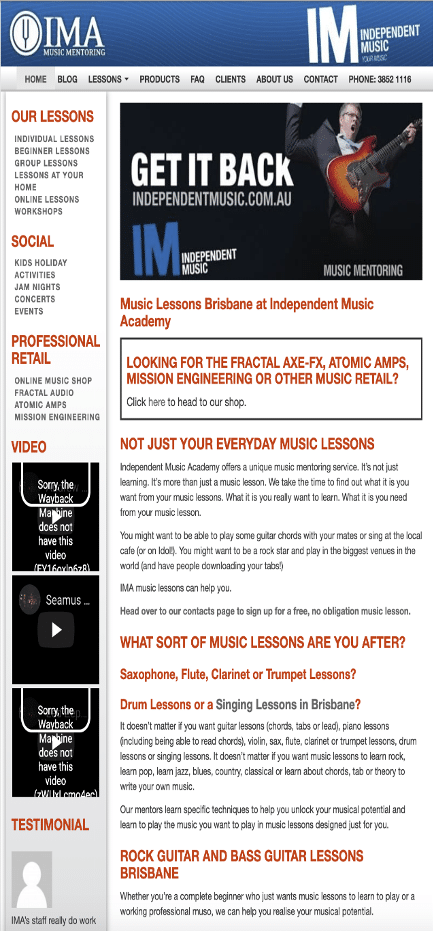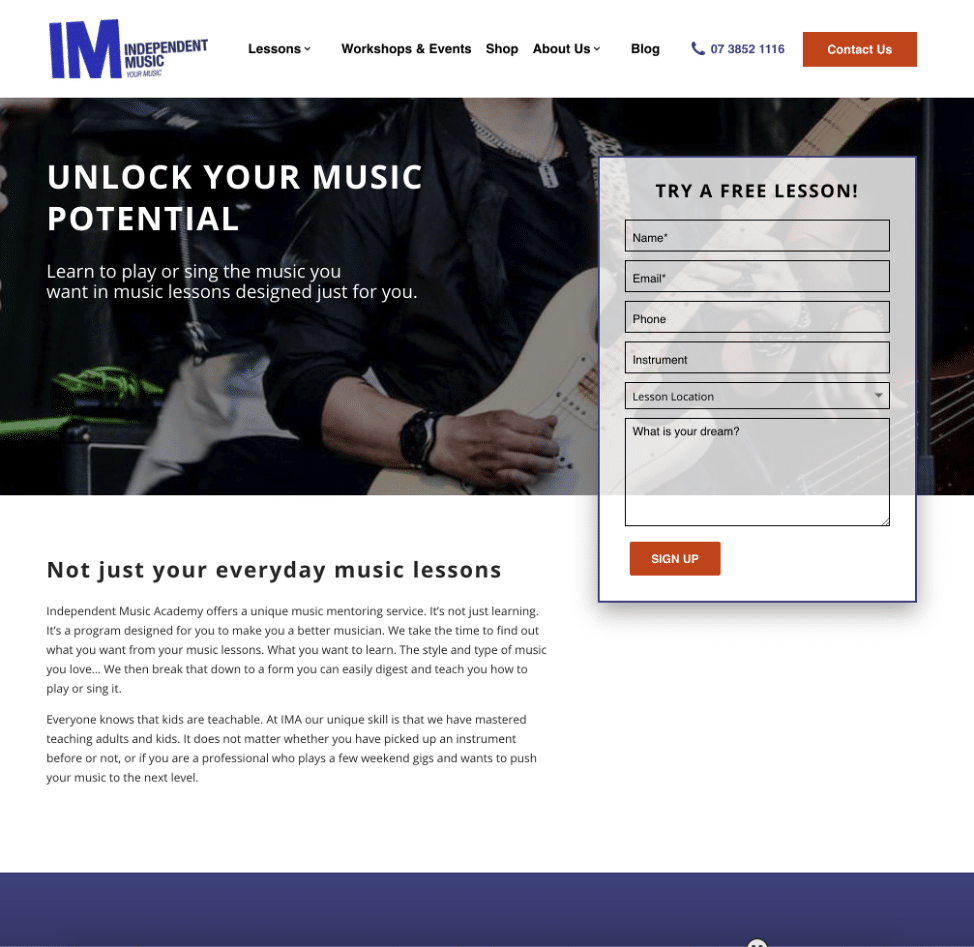 The Result
Given the competitiveness of the market and the significant task at hand, it was pleasing to see that SEO best practice, when applied diligently and systematically in the form of enhanced web design, improved copy and a refreshed link profile can do wonders for a wonderful business that deserves this kind of success.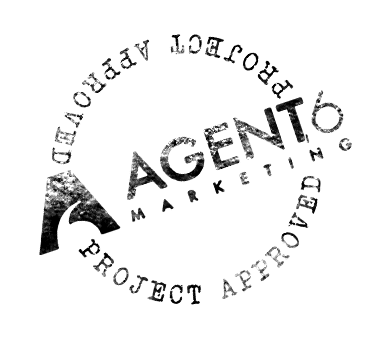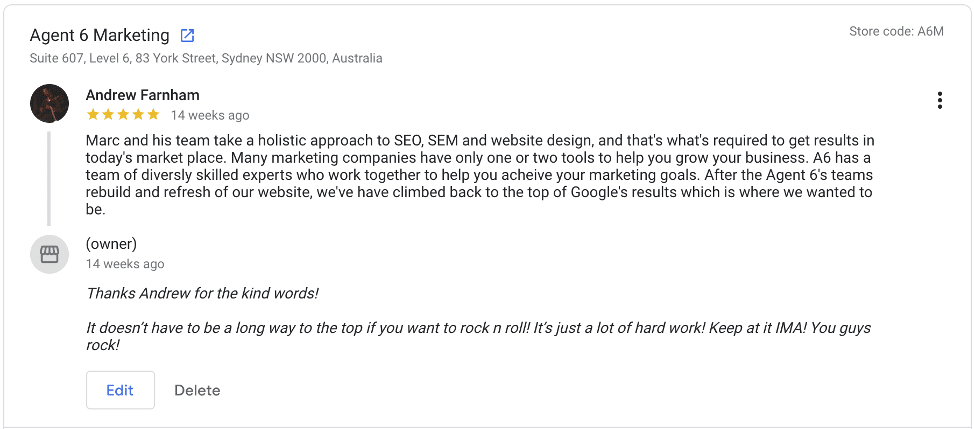 SEO Success
The results are looking at the before and after it is a night and day difference and more importantly one that helped this small business cut through the noisy market and expand their user base.
Great ROI through better SEO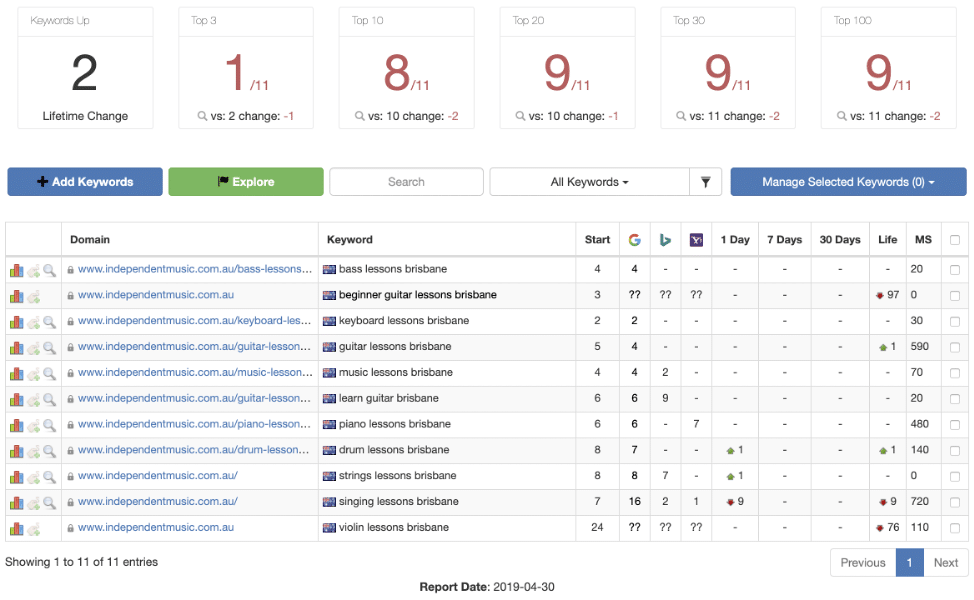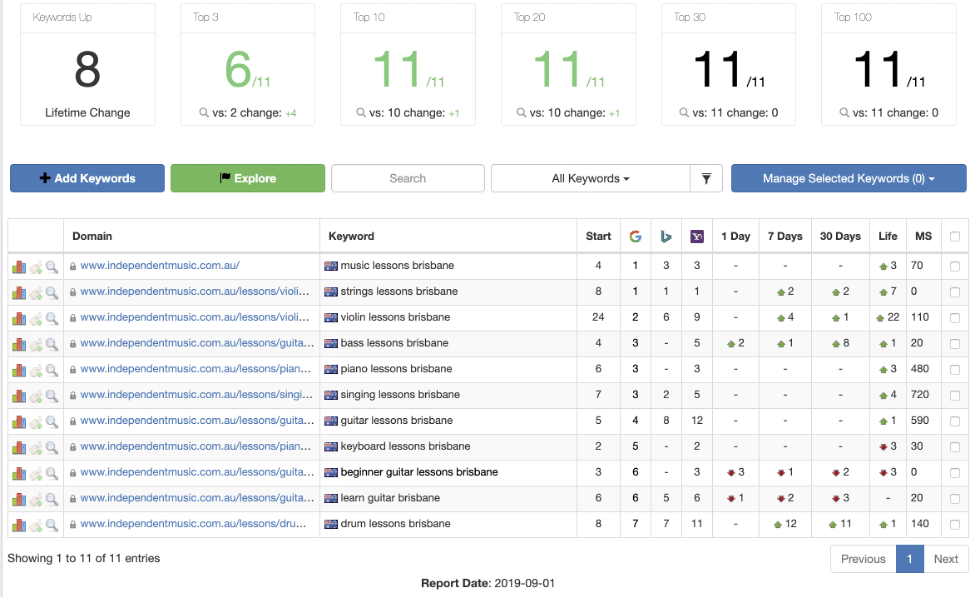 Get In Touch With Us
All great digital marketing partnerships start with a click…This is where yours begins!
Suite 607, Level 6, 83 York Street
Sydney NSW 2000
We are available from:
Monday-Friday: 9am to 6pm
Saturday: Closed
Sunday: Closed