Being found is a major part of the battle, especially when Google keeps changing where the goal posts are.  Agent6 will help you kick those goals.
Matthew Vasilescu
Matt Vas Photography
Commercial Photographer Website – Matt Vas
The Client
Matthew Vasilescu is one of Sydney's pre-eminent commercial photographers. Boasting a rich portfolio featuring award-winning architectural and commercial prints, in addition to a bevvy of headshots of famous celebrities like Donald Trump and Harrison Ford (just to name a few), Matthew is a household name in Sydney's professional photography circles.
As well-known as he is in corporate offices across NSW, Matthew's online presence wasn't keeping up with his competitors. In fact, if you weren't referred to his MattVas.com.au website, you might never have come across his photography services.
The Brief
Matthew tasked Agent 6 with refreshing his online brand; specifically, to take his page three organic search listings for high value keyword terms onto Google Australia's first page and to give his users a better experience that will inspire them to reach out to book his services.
The Plan
Every client is different. Matthew's website was challenging from a number of fronts. He was in a competitive industry, but services are entirely visual, which presents a challenge for Australia's terrible Internet infrastructure as beautiful imagery tends to take up server space and slow sites down.
To help Matthew gain visibility for the work he does online, would require a delicate balancing act. We would need to showcase his amazing photography in its best possible light, but to do so in a way that wouldn't cause servers to melt and destroy the visitor's web experience.
Cleaning house and putting up stronger foundations.
We had a master plan to make quick gains, but to do so would require a fast rebuild of key aspects of the Matt Vas website. Speed was, not surprisingly, an issue. The website was very slow and, though it had some strong imagery, it didn't make much of an impression with those who happened upon it as most visitors weren't willing to wait for pages to load up.
Not only was the website experience poor, there wasn't much copy for Google to index. We thus began a rebuild on two fronts – cleaning up the code at the backend whilst optimising the copy on the website's frontend
The Work
Photography websites are image-heavy. Letting the work shine whilst giving the user (and Google) the "instant gratification" of a fast site load is one of the challenges that needs to be met to succeed…
Services Page Before and After
Website refresh before and after
The home page was always pretty good we just tightened up the design and made it a lot faster.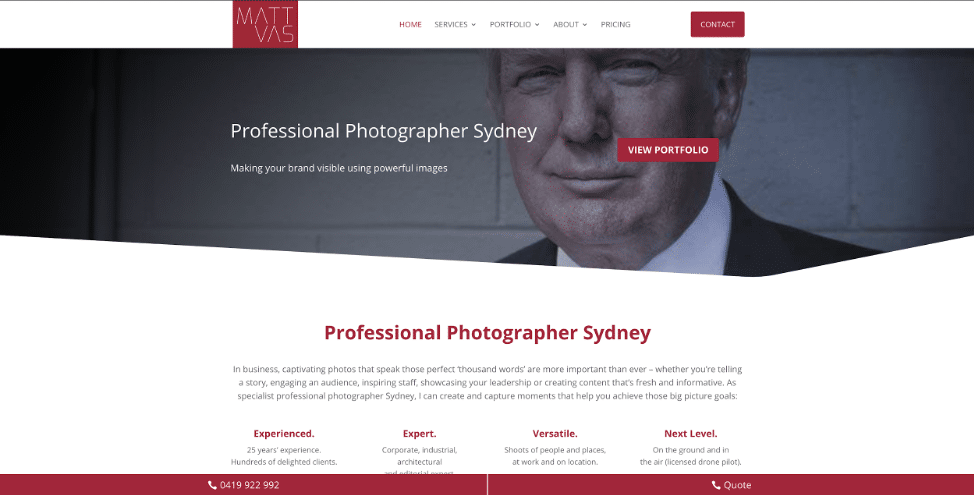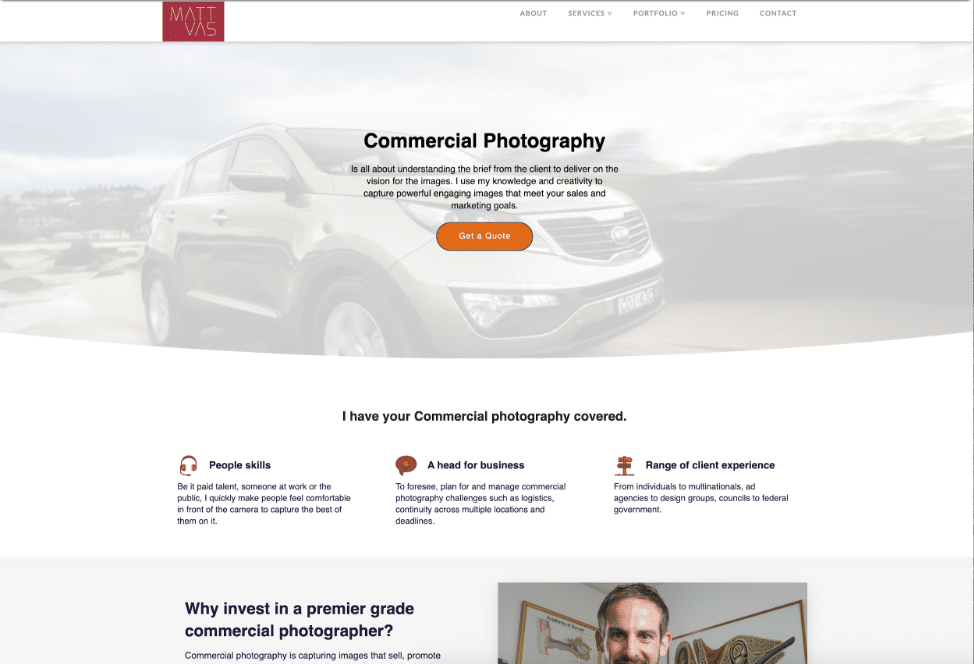 The Result
From those simple changes, and some savvy SEO best practices applied in key areas, Matt's site quickly moved from Google's third page on high value keywords to the very top of organic (non-paid) search listings.
The best part of all was that the leads coming in began to pay for Matt's SEO investment. But don't take our word for it… He's what Matt had to say about Agent 6's work: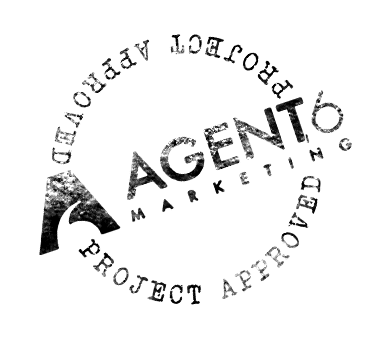 SEO Success
The results are in. After four months, Matt's site has gone from an online footnote to a top performer on many high traffic keywords and his appointment book is full.
Find him online for high value photography terms in Sydney… And if you're looking for a great commercial photographer, be sure to tell him you found him thanks to Agent 6 Marketing!
Great ROI through better SEO

Get In Touch With Us
All great digital marketing partnerships start with a click…This is where yours begins!
Suite 607, Level 6, 83 York Street
Sydney NSW 2000
We are available from:
Monday-Friday: 9am to 6pm
Saturday: Closed
Sunday: Closed